Over the last few years, we have experienced a lot of adjustments to our lifestyles. Work and personal routines have changed significantly, especially the way we cook, take out or dine out. Some of us were forced to rethink how we planned our daily meals. As many local restaurants either closed or allowed only take-out, families started doing more cooking and baking, including ours. We do however get burnt out time-to-time and run out of ideas of what our next lunch or dinner would be. So we tried out a variety of meal kits and premade meal delivery services, and wrote reviews on our experiences.
In my quest to try out some delicious meal delivery services during the past few months of quarantine, and while working from home, I thought back to the types of foods I would eat for breakfast and lunch while physically in the office. In general, I do not follow any particular dietary restrictions or watch my calorie/sugar/fat intake, but while at my desk at work I do tend to eat pretty healthy. I hate that feeling of eating a big lunch and then getting super sleepy, making it hard to focus on my tasks.
I discovered Splendid Spoon during my search, and at first was a little skeptical, mostly because I continued to see them merchandise their product as being vegan, gluten-free, and plant-based. I thought "this probably isn't for me," until I looked at their menu. Everything I usually love to eat for breakfast and lunch at work IS EXACTLY what they offer. Smoothies, soups and grains, and noodle dishes.
The process of setting up and building your plan is seamless and very intuitive. There are 4 meal plan options to choose from: a) breakfast, b) breakfast and lunch, c) breakfast lunch + 1-day soup reset, and d) breakfast, lunch, dinner + 1-day soup reset. Depending on the plan you choose, you will receive a dish for each meal of the day, for a full 5-day workweek. Splendid Spoon offers over 15 smoothie blends for breakfast, 30 soups or grain bows for lunch, 6 noodle dishes for dinner, and 5 light soups for the daily reset. I decided on the breakfast and lunch plan to help me get through the hassle of needing to prepare or cook anything while taking on a busy work day. The deal was sweetened with $60 off my first 3 boxes plus free shipping bringing my total to $75 for 10 meals.
After selecting a plan that best fits your daily diet, you will be asked to enter an email to set up your account, and a zip code to check delivery availability. The next step takes you to shipping and delivery preferences. Here you will be able to decide on the delivery date of your first box as well as note any allergies or ingredients you would like to avoid. Once you complete your payment and finish setting up your Splendid account, you will be ushered off to choose the meals you want included in your box.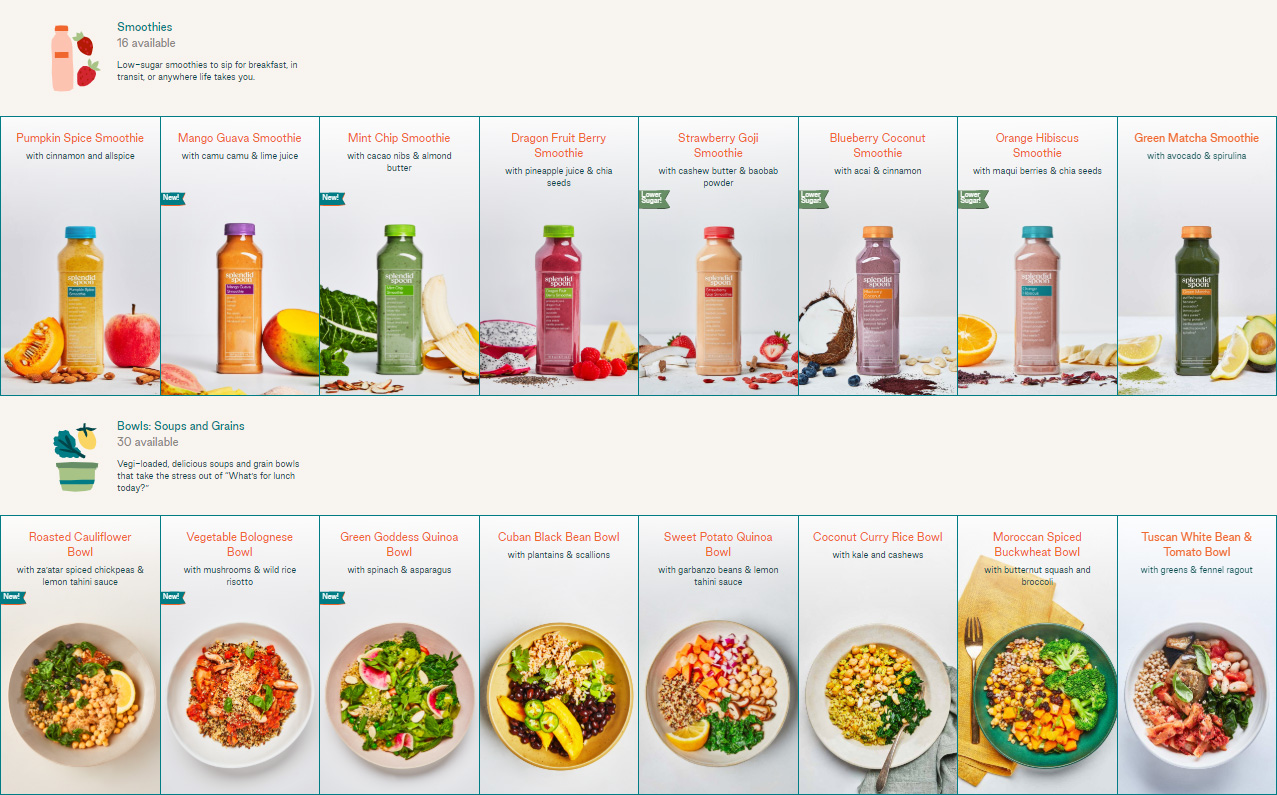 This was the fun part for me. I am a huge smoothie drinker so I felt like a kid in a candy store with this one. After picking my 5 breakfast smoothies of mango guava, mint chip, green matcha, AB&J and dragon fruit berry, I went with the coconut curry rice, Mexican tomato chili, green goddess quinoa, Cuban black bean and lemon wild rice and broccoli bowls for my lunches.
My meal box arrived on the expected delivery date and everything was well packed on ice. Without hesitation I cracked open the dragon fruit berry smoothie – it was delicious! All of the meals were so vibrant in color due to the natural ingredients. Over the next 5 days, I enjoyed the convenience of grabbing my breakfast smoothie and when lunch rolled around, throwing the lunch bowls into the microwave for quick heating.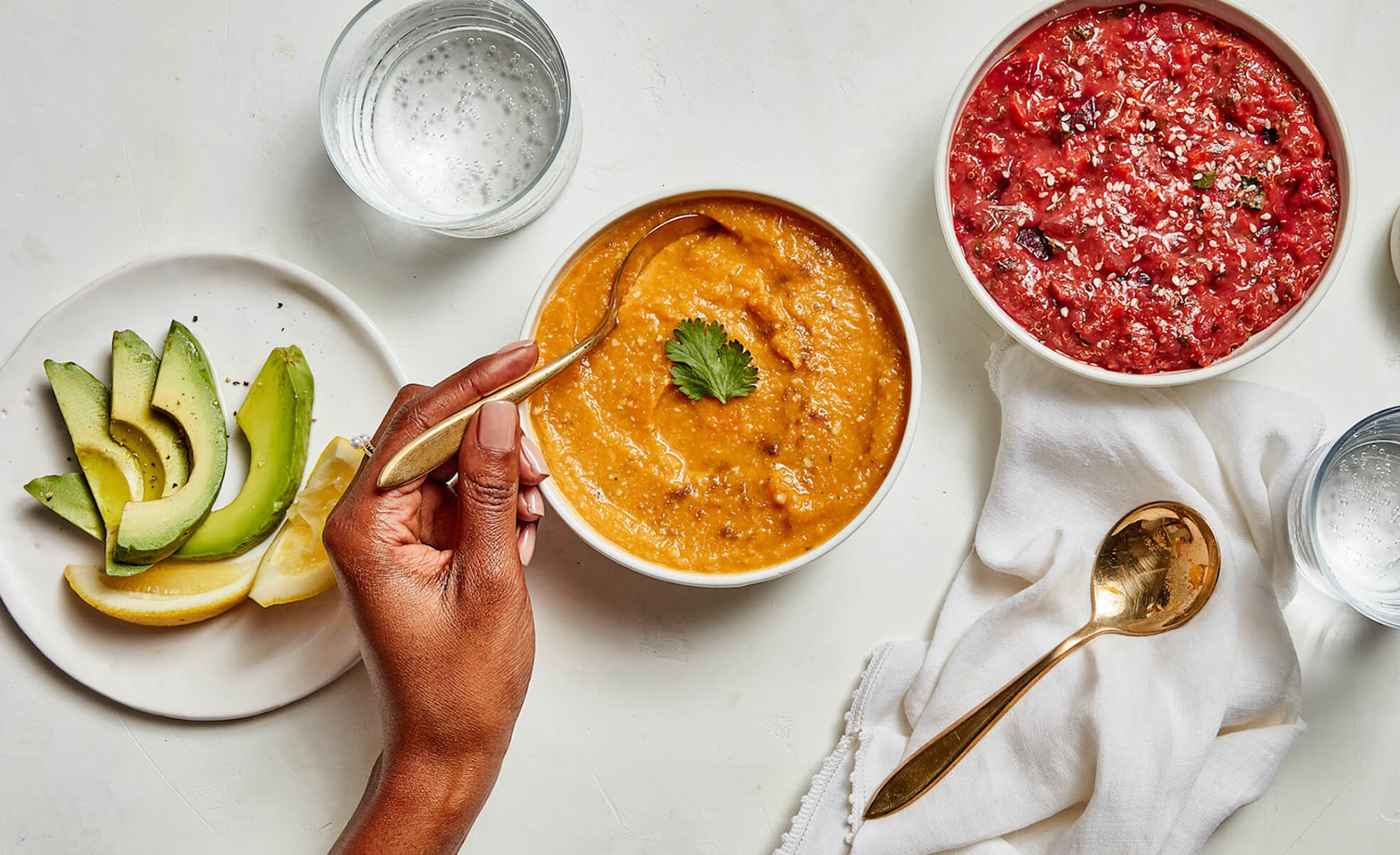 This healthy alternatives to fast food is time-saving and in the long run will save you money on tedious meal prep. It felt great knowing that each smoothie was freshly blended with the perfect mix of fruits, vegetables and other nutritious ingredients, and that each meal was carefully thought out to respect those who follow strict dietary needs such as being vegan, gluten-free and GMO-free. Splendid Spoon just gets it and I highly recommend their meal delivery service to anyone looking to give a plant-based and high-fiber diet a try. You will feel energized after each meal and won't need to worry about the slowdown that I used to feel after big heavy lunches in the middle of my work day. Thanks for reading!
ENJOY $60 OFF FIRST 3 BOXES + 3 WELLNESS SHOTS & FREE SHIPPING